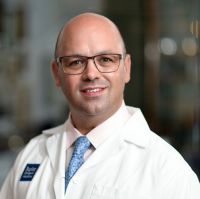 Robert Taylor Ripley, M.D.
Associate Professor of Surgery
Baylor College of Medicine
Position
Address
Lung Institute (Clinic)
Baylor Medicine at McNair Campus
7200 Cambridge Street
Suite 6A
Houston, Texas 77030
United States
(713) 798-6376
Google Maps

Sugar Land (Clinic)
1327 Lake Pointe Parkway
Suite 305
Sugar Land, Texas 77478
United States
Google Maps

Certifications
American Board of Surgery

American Board of Thoracic Surgery
Education
Fellowship at Memorial Sloan-Kettering Cancer Center / New York Presbyterian-Weill Cornell Medical Center
New York
Residency at University of Colorado Denver
Denver
MD from Vanderbilt University School of Medicine
Nashville
BS from Boston College
Chestnut Hill

Fellowship at National Cancer Institute, NIH
Bethesda
Professional Statement
Dr. R. Taylor Ripley is the Director of the Mesothelioma Treatment Center. He is a nationally recognized, board-certified thoracic surgeon and expert in mesothelioma and thoracic surgical oncology. In addition to mesothelioma, he focuses on chest wall tumors, lung cancer, esophageal cancer, and thymoma / thymic carcinoma. For most tumors, Dr. Ripley specializes in robotic surgery to provide minimally invasive approaches to thoracic diseases. He also practices all facets of general thoracic surgery including infectious lung disease, benign esophageal diseases, and endoluminal interventions. Prior to joining the faculty at Baylor College of Medicine, Dr. Ripley was an Associate Professor of Surgery at National Cancer Institute, NIH. While at the NIH, Dr. Ripley was awarded the NCI Director's Innovation Award for targeting specific p53-mutations for the treatment of esophageal adenocarcinoma. He established the Foregut Team at the NIH Clinical Center for the management of patients with esophageal cancer. He also started robotic thoracic surgery at the NCI, NIH. He established a laboratory in the metabolic reprogramming of thoracic cancer and has continued that work at Baylor College of Medicine. Prior to his faculty appointment at the NCI, Dr. Ripley trained extensively in the care of patients with mesothelioma under world-renowned surgeons during his fellowship at Memorial Sloan-Kettering Cancer Center in New York. He also completed a fellowship in Surgical Oncology at the NCI, NIH. Dr. Ripley did general surgery residency at the University of Colorado and received his Medical Doctorate from Vanderbilt University.
Professional Achievements
2016 NCI Director's Innovation Award
National Cancer Institute, NIH
2020 NCI Director's Innovation Award
National Cancer Institute, NIH
Professional Interests
Mesothelioma
Robotic Mediastinal Surgery
Hiatal Hernias, Reflux, and Achalasia
Chest Wall Tumors and Reconstruction
Lung Cancer
Esophageal Cancer
Thymoma and Thymic Carcinoma
Robotic Thoracic Surgery
Infectious Lung Diseases
Pulmonary Metastases
Thoracic Surgery
Physician Specialties
Thoracic Surgery
Mesothelioma
Professional Specialties
Thoracic Surgery
Lung cancer
Esophageal Cancer
Mesothelioma
Pulmonary Metastasectomy
Robotic Minimally-Invasive Thoracic Surgery
Memberships
Journal of Thoracic and Cardiovascular Surgery
Mesothelioma Applied Research Foundation
American Association of Thoracic Surgery
Association for Academic Surgeons
International Association for the Study of Lung Cancer
AATS Foundation
Dan L Duncan Comprehensive Cancer Center