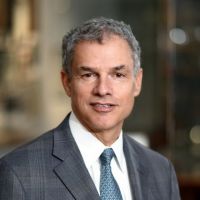 Todd Rosengart, M.D., F.A.C.S.
Professor and Chair, Department of Surgery
Baylor College of Medicine
Position
Address
Baylor Medicine at McNair Campus (Clinic)
7200 Cambridge Street
6th Floor
Houston, Texas 77030
United States
(713) 798-4453
Google Maps

Certifications
Board Certified
American Board of Surgery

Board Certified
American Board of Thoracic Surgery
Education
Clinical Fellowship at The New York Hospital
New York

Research Fellowship at National Institutes of Health
01/1987 - Bethesda, MD United States
Residency at New York University Medical Center
01/1989 - New York, New York United States

Internship at New York University Medical Center
01/1985 - New York, NY United States

MD from Northwestern University
01/1983 - Chicago, IL United States
Professional Statement
Dr. Todd K. Rosengart, professor and chair of the Michael E. DeBakey Department of Surgery and DeBakey-Bard Chair of Surgery, is also professor of heart and vascular disease at the Texas Heart Institute and professor of molecular and cell biology at Baylor. He is an NIH-funded scientist with uninterrupted extramural funding since 1998. He is past president of the Society of Surgical Chairs, representing the academic chairs of surgery in North America, and is a member of the board of directors of the American Association for Thoracic Surgery, the world's oldest society for cardiothoracic surgery. In 1997, Dr. Rosengart and his team at Cornell performed the world's first viral-based cardiac gene transfer procedure, part of a landmark NIH and FDA-approved angiogenesis trial for "no option" patients with end stage coronary artery disease. He is PI of a cardiovascular surgery NIH T32 training grant, recipient of over $20 million in total research grants, holds thirteen U.S. patents (three additional patents pending) and is author of over 200 peer-reviewed articles and other publications with over 13,000 citations and an h-index of 61 (Google Scholar). He has mentored nearly 100 research and cardiac surgery trainees over the past 30 years. Dr. Rosengart is past chair of the NIH Bioengineering, Technology and Surgical Sciences Study Section, chair of a new American College of Surgeons National Surgeon Scientist Study Section and a member of the Scientific Advisory Committee for the Leducq Foundation. He is immediate past editor of Seminars in Thoracic and Cardiovascular Surgery, serving since 2013. Amongst other affiliations, he is a member of the American Surgical Association, the Society of Thoracic Surgeons and councilor of the Southern Thoracic Surgical Society. Dr. Rosengart's institutional roles include his serving as two-term chair of the BCM Faculty Group Practice Board of Governors and as a member of the Baylor St. Luke's Medical Center Board of Directors. He previously served as board chair of the Affiliated Medical Services, a 1000-member consortium of BCM and University of Texas faculty staffing the Harris Health county medical system, one of the largest in the US. He also previously served as national chair of the cardiac surgery service line for CHI (now Common Spirit), a 140-hospital not-for-profit organization with 40 cardiac surgery programs, the largest not-for-profit hospital system in the US. Dr. Rosengart is co-founder of Vitals.com (MDx, LLC, which before its recent acquisition had become one of the world's largest web-based medical consumerism companies. He is also co-founder of XyloCor Therapeutics, a $60 million gene therapy startup that recently completed enrollment in an FDA Fast Track designated Phase I/II national trial of a "next-gen" angiogenic gene therapy for treating patients with end stage coronary artery disease.
Professional Achievements
Texas "Super Doctor"
Texas Monthly
Top Doctors
Houstonian Magazine
Top Doctors
Chicago Magazine
Top Doctors
New York Magazine
America's Top Doctors
Castle Connolly
Distinguished Scientist Award
Baylor St. Luke's Medical Center
Professional Interests
Cardiothoracic Surgery
Off-pump Surgery
Coronary Artery Bypass Surgery
Minimally invasive Aortic or Mitral Repair or Replacement
Physician Specialties
Cardiac Surgery
Cardiovascular Surgery
Cardiothoracic Surgery
Cardiovascular Surgery
Thoracic Surgery
Aortic Surgery
Heart Valve Surgery
Minimally Invasive Surgery
Cardiac Surgery
Cardiothoracic Surgery
Professional Specialties
Minimally Invasive Cardiac Surgery
Minimally Invasive Valve Surgery
Adult Cardiac Surgery
Cardiothoracic Surgery
Vascular Surgery
Memberships
Alpha Omega Alpha Honor Society
Society of University Surgeons
Society of Surgical Chairs
Southern Thoracic Surgical Association
Texas Surgical Society
American Association for Thoracic Surgery
American College of Surgeons
American Heart Association
American Surgical Association
Association of Academic Surgeons
Andrew Morrow Society of Cardiac Surgeons
Seminars in Thoracic and Cardiovascular Surgery
Society of Thoracic Surgeons