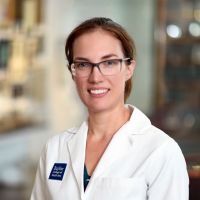 Claire Marie Violaine Hoppenot, MD
Assistant Professor
Baylor College of Medicine
Position
Assistant Professor
Dan L Duncan Comprehensive Cancer Center
Gynecologic Oncology
Baylor College of Medicine
Houston, United States

Address
Baylor St. Luke's Medical Center - McNair Campus (Clinic)
7200 Cambridge Street
7th Floor
Houston, Texas 77054
United States
(713) 798-1999
Google Maps

6720 Bertner Ave (Hospital)
Houston, Texas 77030
United States
Google Maps

6651 MAIN STREET (Clinic)
Houston,
Google Maps

1504 Ben Taub Loop (Hospital)
Houston, Texas 77030
United States
Google Maps

1504 Ben Taub Loop (Clinic)
Houston, Texas 77030
United States
Google Maps

Education
AB from Princeton University
Princeton, NJ
MD from Jefferson Medical College
Philadelphia, PA
Residency at Northwestern University Obstetrics and Gynecology
Chicago, Illinois United States
Clinical Fellowship at University of Chicago Gynecologic Oncology
Chicago, IL
Professional Statement
I was drawn to gynecologic oncology for the opportunity to care for women across the cancer care continuum for women with cancers of the ovary and fallopian tube, sarcomas and endometrial cancers of the uterus, and cervical, vulvar and vaginal cancers. As a gynecologic oncologist, I provide surgery and chemotherapy for patients, and I work closely with radiation oncologists, surgical colleagues, and a whole team of pharmacists, nurses, and medical assistants to make care as seamless as possible. In addition to clinical care, I have participated in developing guidelines for the use of heated intraperitoneal chemotherapy for ovarian cancers and research interviewing women with advanced ovarian cancers to compile patterns in patient concerns that could be addressed more frequently in a patient-physician relationship. My goal is always to partner with patients and their families find the option that is most suited to their diagnosis and goals, especially as they may change over time.
Professional Interests
Treatment of uterine cancer and preinvasive disease
Clinical Trials
Treatment of cervical cancer and preinvasive disease
Treatment of ovarian cancer
Screening and risk-reduction of women at high risk of gynecologic cancers
Treatment of vulvar and vaginal cancers and preinvasive disease
Surgical and medical education
Complex gynecologic surgery
Treatment of uterine sarcoma
Clinical Medical Ethics
Physician Specialties
Gynecologic Oncology
Hyperthermic Intrapertionial Chemotherapy (HIPEC)
Memberships
Society for Gynecologic Oncology
American Society of Clinical Oncology