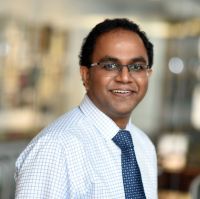 Sandesh C.S. Nagamani, M.B.B.S, M.D., FACMG
Associate Professor
Baylor College of Medicine
Position
Address
Alkek Building for Biomedical Research (Work)
Room: ABBR-R812
Mail Stop: BCM227
Houston, Texas 77030
United States
(713) 798-8335
Google Maps

Adult Genetics Clinic (Clinic)
Baylor College of Medicine Medical Center - McNair Campus
7200 Cambridge St.
9th Floor, Suite 9A
Houston, Texas 77030
United States
(713) 798-7764
Google Maps

Certifications
American Board of Medical Genetics and Genomics

American Board of Internal Medicine
Education
Residency at Baylor College Of Medicine
10/2009 - Houston, Texas United States

Postdoctoral Training at Baylor College Of Medicine
06/2009 - Houston, Texas United States

Residency at Baylor College Of Medicine
06/2008 - Houston, Texas United States

Internship at Fairview Hospital, A Cleveland Clinic Hospital
06/2006 - Cleveland, Ohio United States
Residency at Gandhi Medical College
01/2003 - Bhopal, India

MBBS from University of Mysore
01/1999 - Mysore, India
Professional Statement
My research interests are focused on translational medicine, specifically, evaluating new and potential therapies for various genetic disorders. I am particularly interested in conducting natural history studies, proof-of-concept pilot studies, and interventional clinical trials in patients with inborn errors of metabolism and skeletal dysplasias. As the Co-PI for the NIH Rare Disease Clinical Research Network's Urea Cycle Disorders Consortium (UCDC), I am actively involved in conducting natural history studies, data-mining projects, and exploratory studies aimed at improving therapies for UCDs. We discovered that some distinct features of UCDs could be a result of perturbations of non-ureagenic functions of urea cycle enzymes. In particular, we have shown that nitric oxide (NO) deficiency in the UCD argininosuccinate lyase deficiency (ASLD) contributes to the phenotype of the disorder. We are now translating these molecular findings into the clinical realm by performing clinical trials to evaluate the effects of NO supplementation on vascular and neurocognitive parameters in ASLD. Another research area of interest is in regards to osteogenesis imperfecta (OI), a heritable form of brittle bone disease. We were the first group to show efficacy of anabolic bone therapy in milder forms of OI. BCM is the primary site for the Brittle Bone Disease Consortium (BBDC) of the NIH RDCRN. I save as a lead investigator for the consortium and am leading a Phase I/II study evaluating the safety and efficacy of TGF inhibition in subjects with severe forms of OI. Clinical Interests As an adult clinical geneticist, I provide clinical care for adult patients with a wide variety of heritable conditions. I serve as the Director of the Clinic for Metabolic and Genetic disorders of bone that caters to adult subjects with OI, heritable disorders of bone, early-onset osteoporosis, and other common forms of metabolic bone diseases. Teaching Activities I am actively involved in the teaching and mentoring of medical students and direct one of the preclinical electives for the Genetics and Genomics Pathway. I also serve as the PI for the Career Enhancement Cores of two consortia of the RDCRN namely, UCDC and the BBDC.
Professional Achievements
Adult Genetics Excellence in Education Award
Department of Molecular and Human Genetics, Baylor College of Medicine
Consultant for Endocrinologic and Metabolic Drug Advisory Committee
11/2013 - Food and Drug Administration, USA
Rising Star Award
05/2015 - Baylor College of Medicine
Norton Rose Fulbright Faculty Excellence Award
11/2016
Norton Rose Fulbright Faculty Excellence Award for Creation of Enduring Materials
05/2021
Co-Principal Investigator, NIH RDCRN's Urea Cycle Disorders Consortium
Memberships
Rolanette and Berdon Lawrence Bone Disease Program of Texas
American College of Medical Genetics
American Society for Bone and Mineral Research
American Society of Human Genetics