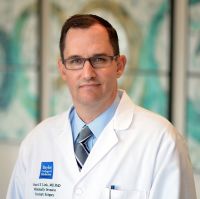 Richard Edward Link, M.D., Ph.D.
Carlton-Smith Endowed Chair in Urologic Education
Baylor College of Medicine
Position
Address
Baylor College of Medicine Medical Center (Clinic)
7200 Cambridge, Suite 10B
Houston, Texas 77030
United States
(713) 798-4001
Google Maps

Certifications
American Board of Urology
Education
BS from Yale University
06/1989 - New Haven, Connecticut United States

PhD from Stanford University
01/1995 - Stanford, California United States

M.D. from Stanford University
01/1997 - Stanford, CA United States
Internship at Baylor College of Medicine
06/1998 - Houston, Texas United States

Residency at Baylor College of Medicine
06/2003 - Houston, Texas United States

Fellowship at Johns Hopkins School of Medine
06/2005 - Baltimore, Maryland United States
Professional Statement
Richard E. Link, M.D., Ph.D., Professor, is a Board-certified and fellowship-trained urologist specializing in the treatment of urologic disease affecting the kidney, ureter, and prostate. He holds the Carlton-Smith Endowed Chair in Urologic Education at BCM. He focuses on the use of laparoscopic, robotic-assisted, percutaneous, and endoscopic techniques to treat kidney tumors, renal and ureteral obstruction, and urinary tract stones. He directs the BCM Division of Endourology and Minimally Invasive Surgery and is active, nationally, in teaching these techniques to other urologists through the American Urological Association Office of Education. He has also directed the BCM fellowship program in Minimally Invasive Urologic Surgery since 2008. Dr. Link has been an early pioneer in the development of laparoendoscopic single-site donor nephrectomy, a less invasive laparoscopic technique in which a donor kidney can be removed via only a single, small peri-umbilical incision for transplantation. He serves as Director of Living Donor Procurement for several major kidney transplant programs in Houston, including Baylor St. Luke's Medical Center, Texas Children's Hospital, and the Houston Methodist Hospital. He also co-directs the BCM Comprehensive Stone Clinic, which provides a state-of-the-art multidisciplinary tertiary referral center for patients with complex kidney stones. Dr. Link completed his Ph.D. in Molecular and Cellular Physiology at Stanford University. His research laboratory studies the genetic basis for renal cell carcinoma and urinary tract stone disease using a combination of genetically engineered mouse models, stem cell biology, and sophisticated whole genome molecular techniques. His clinical research interests include surgical simulation, decision analysis modeling, and the application of 3D reconstruction and printing techniques to surgical education.
Professional Achievements
Fulbright and Jaworski LLP Faculty Excellence Award for Teaching and Evaluation
01/2013 - Baylor College of Medicine
Academy of Distinguished Educator's Education Grant
01/2013 - Baylor College of Medicine
First Prize Video Award
01/2004 - Society for Urodynamics and Female Urology
First Prize, Ambrose Reed Socio­economic Essay Contest
01/2004 - American Urological Association
Top Doctors 2015
Houstonia Magazine
Distinguished Surgeon of the Year
01/2009 - Association of Perioperative Registered Nurses (AORN)
2015 Rising Star Clinician Award
Baylor College of Medicine
First Prize, Annual Audio Visual Awards
01/2004 - American Urological Association
First Prize, Essay Contest, Clinical Research Division
01/2005 - American Urological Association
Award for Excellence in Educational Program Development
01/2006 - Scott Department of Urology, Baylor College of Medicine
Staff Man of the Year Award
01/2007 - Scott Department of Urology, Baylor College of Medicine
Outstanding Full Time Faculty Teaching Award
01/2011 - Scott Department of Urology, Baylor College of Medicine
Fulbright and Jaworski LLP Faculty Excellence Award for Development of Enduring Educational Materials
01/2013 - Baylor College of Medicine
Professional Interests
Endourology; Minimally Invasive Surgery
Kidney Stones
Percutaneous Nephrostolithotomy
Renal Tumors
Renal cell carcinoma
Living Kidney Donor
Donor Nephrectomy
Single Site Laparoscopic Surgery
Polycystic Kidney Disease
Renal Cysts
Kidney Surgery
Renal Mass
Nephrectomy
Ureteral Reconstruction
Molecular Biology
Ureteral Obstruction
Kidney Cancer
Robotic Surgery
Laparoscopic Surgery
Minimally Invasive Surgery
Prostate Cancer
Ureteropelvic Junction Obstruction
Professional Specialties
Endourology and Minimally Invasive Surgery
Urology
Memberships
American Urological Association
Endourology Society
Society of Laparoendoscopic Surgeons
National Residency Review Committee for Urology, Accreditation Council for Graduate Medical Education
Harris County Medical Society
Texas Medical Association
South Central Section of the American Urological Association
American Association for the Advancement of Science