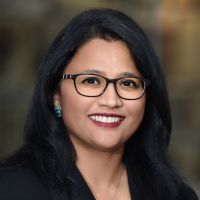 Shweta U. Dhar, MD, MS, FACMG, FACP
Medical Director/ Professor
Baylor College of Medicine
Position
Address
McNair Campus (Mailing)
One Baylor Plz, MS 228
Houston, Texas 77030
United States
(713) 798-7764
Google Maps

Adult Genetics Clinic (Clinic)
Baylor College of Medicine Medical Center - McNair Campus
7200 Cambridge St.
9th Floor, Suite 9A
Houston, Texas 77030
United States
(713) 798-7820
Google Maps

Certifications
American Board of Internal Medicine

American Board of Medical Genetics
Education
MBBS from NHL Municipal Medical College
01/1997 - Ahmedabad, Gujarat India
Residency at The Gujarat Cancer and Research Institute
06/1999 - Ahmedabad, Gujarat India

MS from Stephen F Austin State University
06/2001 - Nacogdoches, Texas United States

Residency at New York INF Beekman Downtown Hospital
06/2006 - New York City, New York United States

Fellowship at Baylor College Of Medicine
08/2008 - Houston, Texas United States
Professional Statement
As the Medical Director for the Adult Genetics Clinics at BCM, I am proud to say that this is one of the largest Adult Genetics Divisions in the country. My primary clinical focus lies in diagnosis and management of adults with genetic conditions, known or suspected. These include diagnosis and management of single gene disorders, chromosomal disorders and familial cancer syndromes, risk assessment for cancer and reproductive planning as well as testing for known genetic disorders in the family. I am also involved in the education of medical students at BCM, particularly in the field of adult genetics. I direct the Genetics course for MS2 and am always looking for opportunities to enhance the genetic education of our medical students and residents through various electives. The Genetics & Genomics Pathway at BCM was established in 2011 and is one of the first such medical pathways in the nation. Through this pathway, students get an unparalleled experience in genetics through their medical school career at BCM. On the national front, I was recently elected to the Board of Directors as a clinical director for the American College of Medical Genetics & Genomics (ACMG). Finally, through my position as chair of the Adult Genetics Special Interest Group (SIG) at ACMG, I was able to launch the Adult & Cancer Diagnostic Dilemmas session at the annual meeting in 2016 which has continued to remain a standing feature every year since.
Professional Achievements
Fulbright & Jaworski Teaching & Evaluation Award
03/2013 - Baylor College of Medicine
Rising Star Clinician Award
05/2014 - Baylor College of Medicine
Fulbright & Jaworski Educational Leadership Award
BCM
Clark Faculty Service Award
05/2018 - Baylor College of Medicine
Women of Excellence Award
03/2020 - Baylor College of Medicine
Professional Interests
Diagnosis and management of adults with genetic conditions
Physician Specialties
Neurogenetics
Medical Biochemical Genetics
Adult Genetics
Adult Cancer Genetics
Clinical Genetics
Clinical Cytogenetics
Clinical Biochemical Genetics
Clinical Molecular Genetics
Memberships
American College of Medical Genetics & Genomics
American Medical Association
American Society of Human Genetics
American College of Physicians