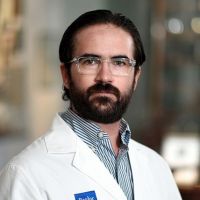 Miguel Montero, M.D.
Associate Professor of Surgery
Baylor College of Medicine
Position
Address
Vascular Surgery (Clinic)
Baylor Medicine at McNair Campus
7200 Cambridge Street
Suite 6E
Houston, Texas 77030
United States
(713) 798-5700
Google Maps

Certifications
American Board of Vascular Surgery
Education
Clinical Fellowship at University of Arizona
Tucson

Clinical Fellowship at Heart Center of Leipzig
Leipzig

Residency at San Juan de Dios Hospital
Costa Rica

MD from University of Costa Rica
Costa Rica
Professional Statement
Miguel Montero-Baker, M.D. is an associate professor in the Division of Vascular Surgery and Endovascular Therapy in Houston, Texas specializing in Diabetic Foot Amputation Prevention and Limb Salvage. Dr. Montero-Baker graduated with honors both from medical school and his residency in Vascular Surgery at the University of Costa Rica. After his residency training, he was awarded a DAAD (German Academic Exchange Service) scholarship to further pursue his interest in interventional therapies in Leipzig, Germany and completed a peripheral vascular ultrasound fellowship, as well as an advanced peripheral endovascular interventions fellowship. Driven by his passion for research and development of new diagnostic techniques for ischemic limbs, Dr. Montero-Baker completed an Integrated Vascular Surgery Residency at the University of Arizona and went on to join the faculty as an assistant professor. Dr. Montero-Baker is author of numerous journal publications, has co-authored several textbook chapters and is a well-recognized opinion leader for the Latin American medical community. Dr. Montero-Baker's main clinical interests are critical limb ischemia, implantable micro-technology and endovascular carotid disease management. He is an active member of the Society for Vascular Surgery, the International Society for Vascular Surgery, the International Society of Endovascular Surgeons, Endovascular Surgeons of Latin America and the Latin America Society of Vascular Surgeons.
Professional Achievements
2020 Top Doctor: Vascular Surgery
Houstonia Magazine
Professional Interests
Limb Salvage / Diabetic Foot Amputation Prevention
Endovascular and open aortic interventions
Arteriovenous access (AV fístulas and grafts)
Deep vein thrombosis
Pulmonary embolism endovascular interventions
May-Thurner endovascular interventions
Endovascular and open mesenteric/visceral interventions
Endovascular and open carotid interventions
Endovascular and open renal interventions
Physician Specialties
Vascular Surgery
Limb Salvage
Professional Specialties
Vascular surgery
Endovascular Therapy
Limb salvage
Memberships
Society for Vascular Surgery
International Society for Vascular Surgery
International Society of Endovascular Surgeons
Endovascular Surgeons of Latin America
Latin America Society of Vascular Surgeons