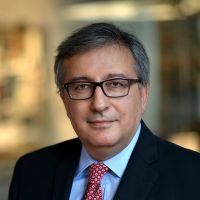 Massimo Pietropaolo, M.D.
Professor
Baylor College of Medicine
Position
Address
Baylor College of Medicine Medical Center, McNair Campus (Clinic)
7200 Cambridge St., 8th Floor, Suite 8B
Houston, Texas 77030
United States
(713) 798-4736
Google Maps

Certifications
American Board of Internal Medicine
Education
MBBS from University of Perugia
02/1983 - Perugia Italy
Clinical Fellowship at Harvard Medical School
Boston, Massachusetts United States

Clinical Fellowship at University of Perugia
Perugia Italy

Residency at University of Perugia
Perugia Italy
Professional Statement
Dr. Massimo Pietropaolo is a bench-to-bedside physician scientist, McNair Scholar and Professor of Medicine at Baylor College of Medicine. He has focused on studying the immunology and genetics of Type 1 diabetes with the ultimate goal to design effective immunotherapeutic strategies for human type 1 diabetes. Dr. Pietropaolo has received continuous funding from the National Institutes of Health for the past 25 years. He has published over 150 peer-reviewed articles and has served on numerous grant review panels (NIH, American Diabetes Association, JDRF, and many others). Among many awards, he received the Career Development Award from the American Diabetes Association, the League of Research Excellence Award from the University of Michigan Medical School, the Oscar Crofford Award from Vanderbilt University, the Columbus Day Award from the Italian-American Society, and the Outstanding Alumni Achievement Award from the University of Perugia Medical School, Italy. Dr. Pietropaolo sees patients in the Adult Endocrinology Clinic and he is the Director of the Type 1 diabetes program at Baylor College of Medicine. Over the years his research has concentrated on the immunogenetics of Type 1 diabetes in four main areas: 1) Identification of novel islet autoantigens eliciting autoantibody and T cell responses in Type 1 diabetes. Dr. Pietropaolo discovered the neuroendocrine autoantigen ICA69, a key regulator of the formation and maturation of insulin granules in pancreatic beta cells. This resulted in a publication and front cover in the Journal of Clinical Investigation. 2) Identification of islet autoantibody and genetic predictors of Type 1 diabetes. Recently Dr. Pietropaolo identified two novel targets of autoimmune responses in Type 1 diabetes, the IA-2 variant-specific (IA-2var) and the IA-2 extracellular (IA-2ec) domain. Specifically, his lab developed new biomarkers detecting autoantibodies directed toward IA-2var incorporating amino acid residue variants (Cys27, Gly608 and Pro671) in the full-length molecule. IA-2var–specific autoantibodies are strong predictors of accelerated progression to Type 1 diabetes in first degree relatives of Type 1 diabetic patients in the TrialNet Pathway to Prevention Study. 3) Use of cell therapy for Type 1 diabetes, to include regulatory B cells. A study from his lab, recently published in JCI Insights, demonstrated the potential to expand CD19+IgM+ cells, especially in response to increased stimulation with IL-5 may be a new therapeutic option for Type 1 diabetes. 4) Determine the pathoetiology of autoimmune endocrinopathies resulting from immune checkpoint inhibitors in an effort to elucidate potential avenues for new clinical trials of targeted therapies for the destructive complications of immunotherapy.
Professional Interests
Type 1 diabetes
Autoimmune Polyendocrine Syndromes
Monogenic causes of polyautoimmunity
Autoimmune Thyroid Disease