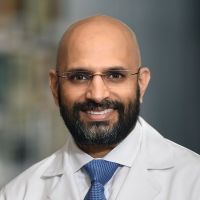 Ganesh Rao, M.D.
Marc J. Shapiro Professor and Chair
Baylor College of Medicine
Position
Marc J. Shapiro Professor and Chair
Neurosurgery
Baylor College of Medicine
Houston, TX US

Address
Baylor College of Medicine (Clinic)
Department of Neurosurgery
7200 Cambridge
Suite 9A
Houston, Texas 77030
United States
(713) 798-4696
Google Maps

Certifications
Board Recertification 2019
Re-Certification American Board of Neurological Surgery

Board Certification 2009
American Board of Neurological Surgery
Education
Advanced Training from MD Anderson Cancer Center
01/2006 - Houston, TX United States
Advanced Training from University Of Utah
01/2005 - Salt Lake City, UT United States
M.D. from University Of Arizona College Of Medicine
01/1998 - Tucson, AZ United States
Professional Statement
I am a board-certified neurosurgeon with a specialty interest in neurosurgical oncology. Prior to being recruited as Chair of the Department of Neurosurgery at Baylor College of Medicine, I practiced neurosurgery at The University of Texas MD Anderson Cancer Center for 15 years. I have years of experience treating patients with brain and spine tumors. I treat primary brain tumors including low-grade glioma, glioblastoma, and meningioma, as well as metastatic brain tumors. I have also used advanced surgical techniques and novel technologies to treat brain tumors including stereotactic navigation, awake surgery, endoscopy, stereotactic radiosurgery, and laser interstitial thermal therapy. I perform basic and clinical research to understand the causes of glioma, the most common and aggressive form of brain cancer. I am funded by the National Institutes of Health for this research. My primary goal is to provide the best care for my patients. This includes not only the best surgery possible but also compassionate care before and after surgery with continuous contact with the medical team. Professionally, I have served as President of the Congress of Neurological Surgeons (2018-2019) and was the Residency Program Director for the Baylor College of Medicine Neurosurgery Residency Program.
Professional Achievements
President
10/2018 - Congress of Neurological Surgeons
Memberships
Congress of Neurological Surgeons
American Association of Neurological Surgeons
Society of Neurological Surgeons
American Academy of Neurological Surgeons
Society for Neuro-Oncology
Websites