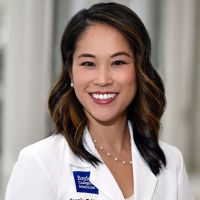 Jessie Z. Yu, M.D.
Assistant Professor of Surgery
Baylor College of Medicine
Position
Address
Jamail Specialty Care Center (Clinic)
1977 Butler Blvd.
Suite E6.100
BCMMS390
Houston, Texas 77030
United States
Google Maps

Michael E. DeBakey VA Medical Center (Hospital)
2002 Holcombe Blvd.
Houston, Texas 77030
United States
(713) 791-1414
Google Maps

Ben Taub Hospital (Hospital)
1504 Ben Taub Loop
Houston, Texas 77030
United States
(713) 873-2000
Google Maps

Education
Fellowship at The University of Texas MD Anderson Cancer Center
Houston

Residency at New York University Langone Health
New York

Research Fellowship at Memorial Sloan Kettering Cancer Center
New York
Residency at New York University Langone Health
New York

MD from New York University School of Medicine
New York
AB from Princeton University
Princeton,
Professional Statement
Jessie Z. Yu, M.D. is an assistant professor of surgery at Baylor College of Medicine. She is a fellowship-trained reconstructive microsurgeon and provides a comprehensive spectrum of plastic surgical care, ranging from cosmetic to trauma surgical needs. Dr. Yu has specialized interests in complex free flap reconstruction after breast, head and neck, and orthopedic surgeries, as well as the surgical treatment of lymphedema. Dr. Yu is dedicated to providing compassionate and personalized patient care while optimizing safe and long-lasting aesthetic and functional outcomes. Dr. Yu completed her Plastic Surgery Residency at the Hansjörg Wyss Department of Plastic Surgery at NYU Langone Health in New York City, one of the country's premiere plastic surgery training programs. After residency, she pursued an advanced fellowship in Microsurgery and Reconstructive Plastic Surgery at the prestigious MD Anderson Cancer Center, where she focused on patient-tailored, state-of-the-art reconstruction techniques, including DIEP and PAP free flaps, VSP-planned free flaps, vascularized lymph node transfer, and lymphovenous bypass super microsurgery. Dr. Yu is passionate and dedicated toward applying cutting edge plastic surgical techniques to restore quality of life for oncologic patients. Dr. Yu grew up in New Jersey and attended Princeton University where she received her undergraduate degree in Molecular Biology, graduating with the Sigma Xi Award for Outstanding Thesis. She completed her MD at the NYU School of Medicine, and her dedication to excellence in patient care was recognized with the Gold Foundation Humanism Award. Dr. Yu further pursued an additional research fellowship at Memorial Sloan Kettering Cancer Center with a focus on the development of novel treatments for lymphedema. Her commitment to research and education are reflected in not only her numerous publications, but also her passion for mentoring future generations of plastic surgeons.
Professional Achievements
Valentine Mott Surgery Award
New York University School of Medicine
Arnold P. Gold Foundation Leonard J. Tow Humanism in Medicine Award
New York University School of Medicine
Dr. Saul J. Farber Research Award in Public Health
New York University School of Medicine
Professional Interests
Plastic Surgery
Reconstructive Plastic Surgery
Microsurgery
Breast Surgery
Lymphedema Surgery
Aesthetic Surgery
Physician Specialties
Plastic Surgery
Breast reconstruction
Cosmetic Surgery
Professional Specialties
Microsurgery
Breast Reduction
Abdominoplasty
Liposuction
Cosmetic Surgery
Body Contouring
Botox
Breast Reconstruction
Lymphatic Surgery
Chest Wall Reconstruction
Abdominal Wall Reconstruction
Head and Neck Reconstructive Surgery
Lower Extremity Reconstruction
Targeted Muscle Reinnervation
Breast Augmentation
Memberships
American Society of Plastic Surgery
American Society for Reconstructive Microsurgery