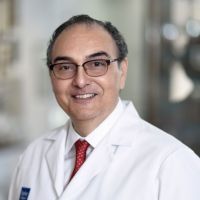 Samer Gamil Mattar, M.D., FACS
Professor and Chief, Division of Metabolic and Bariatric Surgery
Baylor College of Medicine
Position
Address
Metabolic Surgery & Medical Weight Loss (Clinic)
Jamail Specialty Care Center
1977 Butler Blvd.
Houston, Texas 77030
United States
(713) 798-6673
Google Maps

Certifications
American Board of Surgery

American Board of Obesity Medicine
Education
Clinical Fellowship at Emory University
Atlanta

Residency at Vanderbilt University
Nashville

Internship at Emory University
Atlanta

MBChB from Cairo University
Cairo
Professional Statement
Dr. Samer Mattar is a bariatric surgeon in Houston, Texas. Dr. Mattar graduated from Cairo University in 1983 and completed his general surgery residency at Emory University in Atlanta, GA. He completed a second general surgery residency at Vanderbilt University in 2000 and an advanced laparoscopic fellowship at Emory in 2002. From 2014-2017, Dr. Mattar served as chief of Bariatric Services at Oregon Health & Science University as well as chief of the OHSU Surgical Weight Loss Center. From 2017 to 2020, Dr. Mattar was the medical director of Swedish Weight Loss Services at the Swedish Medical Center in Seattle, WA. Dr. Mattar's main clinical areas of expertise include bariatric surgery and endoscopic treatment of acid reflux disease. He has developed comprehensive bariatric and metabolic programs with an emphasis on modern, high-quality, compassionate, patient-centered care. Dr. Mattar has published numerous articles and book chapters in his field and enjoys teaching and advocating for his patients. He will spearhead our recently accredited bariatric surgery center by the national Metabolic and Bariatric Surgery Accreditation and Quality Improvement Program.
Professional Interests
Surgical treatment of obesity and metabolic syndrome
Gastro-esophageal reflux disease
Paraesophageal hernias
Abdominal wall hernias
Surgical treatment of complications of bariatric surgery
Physician Specialties
Bariatric Surgery
Weight loss procedure/surgery
Sleeve Gastrectomy
Lap Band Surgery
Professional Specialties
Bariatric surgery
Laparoscopic Primary and revisional gastric bypass
Laparoscopic Primary and revisional sleeve gastrectomy
Laparoscopic Conversion of sleeve to bypass
Laparoscopic conversion of gastric band to sleeve or bypass
Laparoscopic repair of paraesophageal hernias
Laparoscopic repair of abdominal wall hernias
Diagnostic and therapeutic upper GU endoscopy
Memberships
Royal College of Surgeons of Edinburgh
Pacific Coast Surgical Association
Association for Academic Surgery
Society for Surgery of the Alimentary Tract
American Society for Metabolic and Bariatric Surgeons
American Board of Obesity Medicine
Society of American Gastrointestinal Endoscopic Surgeons
American Medical Association
The Obesity Society
Central Surgical Society
American College of Surgeons
International Society of Surgery