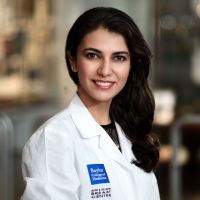 Maryam Nemati Shafaee, M.D., MPH
Assistant Professor
Baylor College of Medicine
Position
Assistant Professor
Medical Oncologist: Breast Care Center
Dan L Duncan Comprehensive Cancer Center
Baylor College of Medicine
Houston, Texas United States

Address
McNair Campus (Clinic)
Dan L Duncan Comprehensive Cancer Center
7200 Cambridge St.
7th Floor
Houston, Texas 77030
United States
(713) 798-1999
Google Maps

Education
MD from Weill Cornell Medical College
06/2009 - New York City , Doha United States, Qatar
Residency at Weill Cornell Medical College
06/2013 - New York City
Fellowship at The University of Texas MD Anderson
06/2016 - Houston

Fellowship at Baylor College of Medicine
06/2017 - Houston, Texas

MPH from Harvard School of Public Health
05/2019 - Boston
Professional Statement
I have strong interest in treating women with all stages of breast cancer. I am board certified in Internal Medicine and Medical Oncology. My research interests include metastatic breast cancer, breast cancer molecular epidemiology and global health.
Professional Achievements
Merit Award
08/2015 - ASCO - Conquer Cancer
Merit Award
06/2016 - ASCO - Conquer Cancer
Vail- Methods in Clinical Research
08/2017 - AACR
Honors in Clinical Research
06/2009 - Weill Cornell Medical College
Professional Interests
Care of patients with breast cancer
Global Health
Professional Specialties
Breast Oncology
Metastatic Breast Cancer