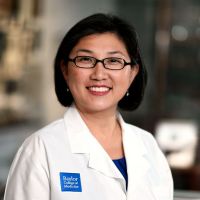 Angela Shu-Yuen Peng, M.D.
Assistant Professor
Baylor College of Medicine
Position
Assistant Professor
Otolaryngology
Otology, Neurotology, Skull Base Surgery
Baylor College of Medicine
Houston, TX US

Address
Jamail Specialty Care Center (Clinic)
1977 Butler Blvd
Suite E5.200
5th floor
Houston, Texas 77030
United States
(713) 798-5900
Google Maps

Certifications
Neurotology

Otolaryngology - Head & Neck Surgery
Education
BSc from Rice University
Houston, Texas United States

MD from University of Texas Health Science Center in San Antonio
San Antonio United States
Residency at Virginia Commonwealth University
Richmond, Virginia United States

Fellowship at University of Minnesota
Minneapolis, Minnesota United States
Professional Statement
Dr. Angela Peng, board certified in both Neurotology and Otolaryngology-Head & Neck Surgery, specializes in the comprehensive medical and surgical management of chronic ear diseases, different types of hearing loss, vestibular disorders, and lateral skull base disorders with emphasis and interests in educating the future of otolaryngology/neurotology. She is excited to join BCM's team.
Professional Achievements
Paparella Clinical Otological Research Award
American Academy of Otolaryngology Humanitarian Resident Grant
Lions Hearing Foundation grant
Resident Leadership Grant from AAO/HNS
John A Hartford Foundation- American Federation for Aging Research, Medical Student Geriatric Scholar
National Institute of Neurological Disorders Exceptional Summer Student Award
Walter Loewenstern Jr Scholarship
Professional Interests
External and middle ear conditions (ear infections, ear drum perforations, aural polyps, middle ear implants, ear canal malignancies)
Cholesteatoma
Hearing loss (asymmetric hearing loss, conductive and mixed hearing loss, otosclerosis, acute sudden hearing loss)
Cerebrospinal fluid leaks
Facial nerve disorders
Superior semicircular canal dehiscence
Balance disorders (Meniere's disease, vestibular disorders, vestibular migraines, labyrinthitis, vestibular neuritis, perilymphatic fistula)
Acoustic neuroma (vestibular schwannoma)
Cochlear implants, bone anchored implants
Physician Specialties
Otology and Neurotology
Balance Disorders
Otolaryngology
Professional Specialties
Otology, Neurotology, Skull Base Surgery
Otolaryngology- Head & Neck Surgery
Memberships
American Neurotology Society
American Academy of Otolaryngology Head and Neck Surgery