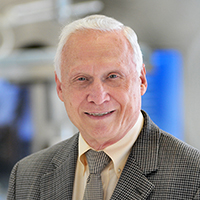 F. Blaine Hollinger, M.D.
Professor
Baylor College of Medicine
Position
Professor
Medicine, Molecular Virology & Epidemiology
Director, Eugene B. Casey Hepatitis Research Center
Baylor College of Medicine
Houston, Texas United States

Address
Baylor College of Medicine (Office)
One Baylor Plaza, BCM385
Houston, Texas 77030
United States
(713) 798-3008
Google Maps

Abdominal Transplant and Liver Disease Clinic (Clinic)
6620 Main St.
Houston, Texas 77030
United States
(832) 355-1400
Google Maps

Certifications
Baylor College of Medicine
Education
Fellowship at Baylor College Of Medicine Affiliate Hospitals
01/1968 - Houston, TX United States

Advanced Training from Centers For Disease Control And Prevention
01/1966 - Atlanta, GA United States
Residency at University Of Kansas School of Medicine
01/1965 - Kansas City, KS United States
Residency at University Of Washington Hospital
01/1964 - Seattle, Washington United States
Residency at University Of California Hospitals & Clinics
01/1964 - San Francisco, California United States
Graduate Certificate at University Of Kansas School Of Medicine
01/1962 - Kansas City, Kansas United States
MD from University Of Kansas
01/1957 - Lawrence, Kansas United States
Professional Statement
Viral Hepatitis; Blood-Borne Pathogens; Molecular Determinants of HCV Treatment Failure; Small Animal Models for Viral Hepatitis Studies; Organoids for Viral Hepatitis Studies. The Eugene B. Casey Hepatitis Research Center and Diagnostic Laboratory (CRCDL) was established in 1988 as a facility whose program focuses on hepatitis and other blood-borne viruses, the diseases associated with these agents, their immunoprophylaxis and treatment. Hepatitis C: State-of-the-art assays are being utilized to properly identify and characterize hepatitis C virus (HCV) in infected persons and to study its role in the immunopathogenesis of viral hepatitis. The safety and efficacy of new or novel treatment modalities are being investigated. Recent data strongly suggest that HCV persistence and/or resistance to treatment is a multifactorial process involving the host, the immune response, and the virus itself through its molecular interactions during the course of infection and treatment. We are interested in studying molecular determinants of viral sequences that could be associated with the chronicity of HCV infection and escape from treatment. To accomplish this goal, we plan to develop a small animal model for HCV infection based on humanized mouse liver which will be challenged with viral genomes collected from patients with different outcomes of infection including nonresponders to treatment. We will define which clusters of the genomic sequence are important for the outcome of the infection or treatment modality and characterize the molecular mechanisms involved in this process. National Surveillance Study on Hemophilics: The CRCDL is involved in a national serosurveillance study sponsored by the Centers for Disease Control and Prevention for the purpose of identifying HAV, HBV, HCV, HPV B19 and other new emerging viral agents in the U.S. hemophilia population. SEN-V Virus: SEN-V virus is a member of the TT virus superfamily. It has been shown to be transmitted to humans by blood with recovery occurring in a large percentage of patients. The risk of developing serious disease among chronically infected persons has not been established. We are examining transmission among transfused recipients who have developed non-A-E hepatitis using PCR technology and are comparing these results to blood recipients who did not develop hepatitis.
Professional Achievements
Physician of the Year 2005
01/2005
Professional Interests
Viral hepatitis and liver disease
Blood-borne pathogens
Professional Specialties
Hepatology (Liver Disease)
Websites